WRITTEN BY MARISA M. KASHINO | PUBLISHED in the WASHINGTONIAN ON SEPTEMBER 19, 2017
Bathrooms done up in unexpected colors, patterns, and accessories.
Hello, Sunshine
Photograph by Stacy Zarin-Goldberg.
To get to this bathroom in a 1920s house in Del Ray, you have to pass through a turquoise-and-orange family room, then a bright-yellow laundry room. All of that, says interior designer Susan Nelson, "sets the stage" for this tiny showstopper. The Schumacher wallpaper is the obvious focal point. But subtler details—the Ikea mirror, the way the floor tile culminates in a solid black border—add to the room's charm.
Though Nelson selected those finishing touches, the bath-room's overhaul was part of a larger remodel led by Case Design. The firm swapped out a tub for the shower and found all the plumbing fixtures, including the vintage-inspired vanity console. The result, says Case's Allie Mann, "is just this little jewel."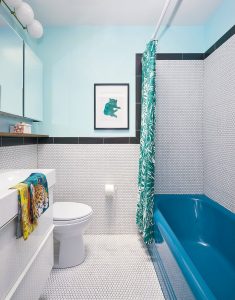 Jungle Gem
Photograph by Jeff Elkins.
It's not easy to convince clients to take risks with wild colors, but the young couple who live in this Mount Pleasant rowhouse were braver than most. When interior designer Kerra Michele Huerta suggested a teal tub for their main bathroom—the one shared by two upstairs bedrooms, including the master—she says they didn't flinch. So she hired Virginia Bathtub Refinishing to glaze the original white tub in Benjamin Moore's Naples Blue.
The designer chose white penny tile, a black bullnose border, and a minty coat of Benjamin Moore's Tropical Pool for the walls. "I just wanted it to be so fun," she says. A jungle-inspired shower curtain from Urban Outfitters and an Andy Warhol cat print helped her complete that mission.
This is an excerpt from the complete article that appears in the September 2017 issue of Washingtonian.
Authored by:
Senior Editor
Marisa M. Kashino joined Washingtonian in 2009 as a staff writer, and became a senior editor in 2014. She was previously a reporter for Legal Times and the National Law Journal. She lives in Northeast DC with her husband, two dogs, and two cats.