Rochester has more sunshine and heat than people imagine.  If you want to take advantage of the warmer months, consider retractable awnings and/or screens for your outdoor space! We visited the experts at Rochester Colonial to learn more about the available options.
A beautiful way to keep your cool is with great new awnings available today.  No need to worry about a light rain driving you indoors. In addition, awnings help keep damaging UV rays away from your furniture, window treatments, and flooring.
Steve Trotta, Vice President at Rochester Colonial said, "With a touch of a button, motorized retractable awnings provide shade and comfort for your deck or patio."  (You can still find them available with manual operation if you prefer).  "You'll be amazed by the selection of beautiful fabrics to choose from that will add a touch of flair and distinction to your home," Steve added.
Technology has come a long way with awnings too. They can be equipped with sun and wind sensors and even integrated with your home automation.
Fixed awnings are another great option and are ideal for individual windows, porches and high-wind areas.  They will provide elegance and solar protection in a wide variety of settings. The shapes, styles, colors and patterns available may surprise you!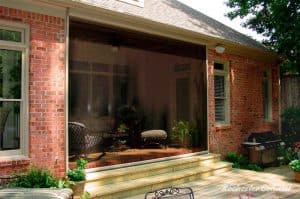 Retractable screens are another popular option.  Perhaps you have a roof over your porch or patio, but the bugs drive you indoors. Not anymore!  Motorized and manual retractable screens for windows, porches, garages and doors raise and lower to welcome in Mother Nature (minus the insects and bugs). They can also help keep harmful UV rays out to minimize fading of your furniture, carpets and draperies. Choose from fabrics, mesh and vinyl that can even provide solar heat control and increase privacy.  Custom sizing can accommodate just about any opening!
If you are in the Rochester or Finger Lakes regions of New York, stop and see the pros at Rochester Colonial.  And remember, for any projects you need done in or around your home find a professional at FindTheHomePros.com.