Your responsibility as a homeowner begins once you've purchased a house. Once you are settled in your new home, you'll want to keep it looking its best both inside and out. A regular cleaning routine will help ensure it sparkles, but will also ensure that all of its fixtures are working properly, and your household is free from germs and bacteria. Cleanliness is also vital as the appearance of your home can create an impression on your family, guests, and even passersby.
However, many homeowners don't actually like the idea of cleaning their homes. This chore is time-consuming and can be stressful, especially for homeowners who have a lot of things on their plates. But this mindset can soon change if you have the right strategies in place that can help you clean your home in the easiest and most effective way possible.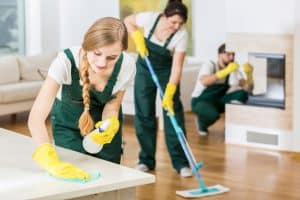 Listed below are some great ways for you to clean your home this year:
Hire Professionals
If you want your home to be spotless merely dusting specific areas of your home won't do the trick. Have you considered hiring an expert?  Initially you may think you cannot afford it, or that it's simply more economical to do it on your own. But you may want to reconsider.
For you to enjoy a clean house without spending a lot of time, consider hiring home cleaning services. Today, businesses that provide cleaning services are accessible almost anywhere. You can even find the best cleaning professionals in Rochester and Finger Lakes Region of New York at FindTheHomePros.com.
Aside from the convenience, these professionals can also clean hard to reach areas of your home. Professionals from https://firstclassnc.com, for example, can professionally clean your roof using the right cleaning and safety equipment. Yep, in some areas of the country cleaning your roof (depending on the material) is recommended. (Check with your roofer expert before cleaning your roof)
Regardless of the area of the house you want to clean, there are trained and well-equipped professionals who can provide the best services.
Declutter First And Clean After
Professional cleaning services are a godsend, especially for homeowners who don't have the time to personally clean their homes to the level they would like. However, keep in mind that their services also have limitations.
When you hire professional cleaning services, expect that they will leave a pile of your items somewhere in your home. These professionals are only responsible for cleaning your home; they will not go through all of your valuables and assess which among these are still usable or not. In short, they are not in charge of disposing damaged items and keeping useful ones. (Or putting them away where they belong!)
If you want to make the most out of their services, declutter your home first. This means going through all of your things and deciding which should be disposed of or kept. Items unused for the past year should be thrown away, donated, or disposed of if necessary.
Clean Your Baseboards
Although baseboards only take up a small portion of your home, how these look can significantly affect the overall appearance of the space. A vacuumed living area won't look clean if your baseboards are full of dust.
Roll up your sleeves, get on your knees, and use a microfiber mop to clean your baseboards. Since these are only small items in your home, cleaning it won't take hours. But once done, you'll be surprised how your home looks polished and neat!
Note that this is another area that a professional cleaning service will handle for you – so if getting on your hands and knees to clean baseboards is not your thing, discuss the job with a professional!
Polish Stainless Steel Items
Stainless steel is a durable material used in a lot of appliances today, especially in the kitchen. To ensure that these materials will retain their shine even after years of use, pay attention to the materials and strategy you use in cleaning them.
Follow these tips when cleaning any surface made from stainless steel:
Use a microfiber cloth and fold it in half. One portion of the cloth should be damp while the other remains dry.
Wipe surfaces made from stainless steel with the wet portion of the cloth first and then dry it using the other half. When doing this, make sure that you're going with the grain of the stainless steel, not against it.
This cleaning hack is very simple, yet it ensures that all of your stainless steel appliances are finger-print free. This will surely create a more finished look to your home.
Use The Right Tools
Since your home has different appliances and furniture, don't expect that a single cleaning tool can effectively clean all of these. In fact, a cleaning tool designed for metal surfaces will only cause damage when used on your wooden furniture.
When cleaning your home, invest in the right cleaning tools. You can start with microfiber cloths, a vacuum, clean sponges, and a scrub brush. If possible, allocate different cleaning tools in specific areas of your home to avoid germs from spreading.
Prioritize Cleanliness
A home is an expensive purchase and should be relaxing place to spend time.  Letting dust pile up in the space will detract from that.  And in certain areas of your home,  unsanitary conditions  can eventually become a breeding ground for germs, increasing the risk to you and your family suffering from illnesses and diseases.
Change your routine and make time to thoroughly clean your home or consider hiring that professional to help. The benefits you can experience from a clean house will surely outweigh the stress of cleaning it.