Spring cleaning—it's that time of year you might dread the most. It's time to remove clutter and eliminate the dust, dirt, and grime from your beautiful abode. But it doesn't mean you should go through the tidying process using conventional means. With the coming of the new year, here are five cleaning tips from the experts to help you get that great clean.
Call the Pros from the Start
Not everyone has the time to clean their homes. School and work might inhibit you from tidying up your home. Also, it's likely that the only thing in your mind during the weekend is to get rest instead of cleaning the house. And let's face it, a good thorough cleaning is altogether different than your weekly wipe down!
If you don't have the time to declutter and remove unclean desirables from your dwelling, it might be best to call professional services from the start. A house cleaning company like SwiftClean can help cleanse your home from filthy and grimy substances from top to bottom.
Aim for using reliable home cleaning services companies that will have the necessary experience, knowledge, and skills to tackle the toughest challenges in the industry. Furthermore, these experts should have the equipment needed to tidy your abode efficiently and quickly. (A quick search online will likely result in numerous local companies to check out!)
Create a To-Do List
 There's no harm in deciding to clean your home by yourself or with the help of friends and family. But it's essential to follow a proper home maintenance session. Otherwise, you might find yourself spending more time than intended to remove dirt and debris from your property.
Start by creating a To-Do list. The document should list all the chores you need to do, starting from the most challenging and time-consuming to the most straightforward task. Beginning with challenging cleaning tasks means you can focus on those jobs before moving to other responsibilities.
Conversely, you can reserve easy housework chores for other days. But make sure these tasks won't take more than five minutes of your time.
Also, stick to your To-Do list as much as possible. Don't get distracted by reminiscing with old pictures you found in a box while cleaning the attic. You can save the procrastination for later.
Clean from Top-to-Bottom, and Left-to-Right
House-cleaning beginners might try to remove dust and dirt from surfaces sporadically. Eliminating unclean substances using quick techniques might make you think you can finish tidying up the place swiftly. But if you're cleaning inefficiently, then you might have to rethink your actions.
Instead, opt to clean from the top to bottom, and use a left-to-right motion. This technique can be useful when wiping windows, mopping floors, or decluttering spaces. You'll also want to remove dust from the top first, or you'll end up starting all over when the dust settles again.  Have a plan!
For example, if you're cleaning your kitchen, don't start from the bottom drawers. Instead, consider starting from the top cupboards and shelves. Tidying from the top will make the excess dust, dirt, and debris fall to the bottom. So, you can clean the surplus of unclean substances in one swoop after finishing the top areas.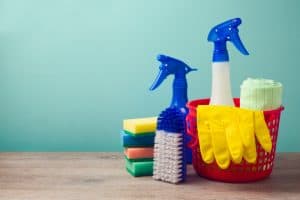 Use a Cleaning Caddy
Your cleaning routine might include eliminating unhygienic substances in different rooms. Moving from one place to another to get cleaning supplies might not take more than a few seconds to accomplish. But you can tidy your home more efficiently if you have a cleaning caddy in tow.
You can create a DIY caddy with wheels, so it's easy for you to bring cleaning equipment in each room of your home. Otherwise, you can use a trusty basket for this task. If you have one with handles, all the better!
Create a DIY Stain Remover
Stains might be an inevitable element in various homes. Orange juice dripping on carpets and spilling milk on upholstery might make you think there's no way to remove these spots.
You can search for commercial and industrial stain removers on the market, but these products might come with hazardous chemicals that might risk the health of household members. Consider using a DIY stain remover to help eliminate these stains for good.
Start by gathering the necessary materials to create the mixture: mix two parts hydrogen peroxide and one part liquid detergent. Put the solution in a spray bottle afterward. Spray the concoction on certain stains, and watch how the spots disappear right before your eyes. You should read the tag/know the fabric you're dealing with before you begin and do a bit of research online or call the manufacturer if you are not certain the mixture won't harm the fabric.  Alternatively try a bit of the solution on a part of the fabric you will not see, like behind the sofa.
But don't forget to wash/wipe the material after spraying it with the solution. The mixture might leave a residue, and it can add additional spots to fabrics.
Final Thoughts
Use these tips to help rid your home of dust, dirt, grime, and debris. These expert hacks will assist you in making your property sparkle with cleanliness. But if it seems like you can't handle regular cleaning jobs at home, consider calling professional cleaning services from the start.