Are you tired of decluttering your kitchen space all the time? Do you want more floor space to roam around? Or do you want to revamp the entire look of your kitchen without spending too much? We can help! This article may give you some new ideas and online resources.
In interior design and remodeling, there are so many areas of your home you might target for improvement. The living room, the bedroom and the bathroom all are important in our daily lives to be sure, but this time let us give more attention and focus to the hard-working and sometimes under-appreciated part of the house; the kitchen.
Your kitchen is where you stock your ingredients and foods, prepare your meals, and probably spend a good deal of time with your family. A poorly designed kitchen, or a very small kitchen certainly has its challenges.  We will let you in on some kitchen hacks that you can surely use to help make the best use of the kitchen space you have.
1. Invest in more wall cabinets
To save floor space, look to your walls. Is it possible that you have wall space that could be better utilized? Finding space to mount even one or two additional small cabinets can add much need storage, or free up floor space where there's currently a bulky storage unit. You may be able to find inexpensive stock cabinets for your newly discovered wall space, but you'll be surprised that there is a lot of online kitchen cabinets offered at a budget-friendly price too.  Just make sure to give your trusted handyman a call to assist you with the installation to be sure it can handle the weight of your storage once mounted!
Pros: More storage, and less clutter!  Stand in your kitchen and look around. There are probably empty spaces you didn't think of before.  If not, call in a kitchen design professional. They'll likely surprise you with ideas and solutions you had not thought of before!
Cons: You may need to hire a professional for the install if you are not handy with tools. You'll want to be absolutely certain wall cabinets are mounted properly to hold the weight of the storage you'll be using it for.
2. Sliding cabinets can do great tricks
Say goodbye to door-type cabinets and say hello to sliding cabinets. We are going modern, and sliding cabinets are in. You might not notice it, but door-type cabinets need a generous allowance in your kitchen space. For kitchens built in tight spaces, the standard door cabinet is a no-no. The moment you open a single cabinet, you need enough space for the door as an opening allowance, and this will consume otherwise usable space.
Pros: No need for an opening allowance, just slide it through. Fast and easy! Plus, you can find durable pre-made kitchen cabinets online. You may not find these in local showrooms depending on where you live, but they are readily available online.
Cons: Since sliding cabinets runs with a grid slider, overdue time the metal gets rusty and sliding it will be difficult. Make sure to continually check the sliding factor; sometimes, it can be easily fixed with grease or oil; otherwise, it may require track replacement.
3. Walls. Walls. And Walls!
We emphasize the walls as they can be truly innovative and helpful in space-saving. Make the most of your walls and start hanging items in available spaces.  Let those kitchen items dangle! Why not re-think your wall space and add some rods or pegboards on your wall. Hooks can be so useful for a variety of kitchen tools.  Make the most out of all space and start hooking your kitchen utensils and free up your countertops and overly-stuffed drawers.
Pros: Hooked kitchen items are always within easy reach. There is no need to scramble through the cabinets or under sink cabinets in looking for a saucepan or frying pan. This gives you more visibility in your kitchen and also adds a natural theme in your kitchen.
Cons: Dangling and hooked items will be in full view.  It may be time to upgrade a few items.  They will also collect dust if they are not used often. Probably best to 'display' items you use often.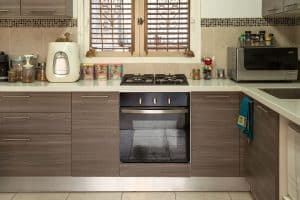 4. Choose smart-style appliances
With the fast growth of technology, it is not difficult these days to find small sized kitchen appliances. Many electronic companies are 'down sizing' their appliances, making it possible for minimalists and space-savers happy.  For small apartments or homes there are even mini kitchen stove burners.  Even wall-installed microwave ovens, and wall-mounted refrigerators are available in the market today. Size doesn't always mean the best, as they say, great things come in small packages.
Pros: Small sized appliances are a totally space-saver solution, and since they are smaller, may even save some of your monthly utility bills.
 Cons: Storage wise and size wise you may need to adjust the amount of food storage, or the size of your next pot roast dinner.
There are many ways to make your kitchen more efficient and to save space.   Find your style, and search for new ways to incorporate space saving and time saving techniques.  You may be surprised at what you'll find available with a bit of online research too!
Feature Image source
Wall cabinets Image source 
Appliance Image source