Become A Member Today
As a member you'll save far more than the cost of your dues with a long list of useful members benefits.
RHBA Membership
$650/yr
Includes membership to four organizations
Benefits & services at local, state and national levels
Opportunities for education, training and industry information
RHBA Membership Details
Rochester Home Builders' Association (RHBA) membership includes industry representation at the local, state and national levels. Your annual dues investment includes membership to the New York State Builders Association, National Association of Home Builders and Upstate Building Industry Alliance. Over more than 80 years the RHBA has developed a local reputation as the industry professionals. The association offers members the opportunity for continued professional development and access to information critical to their businesses. The RHBA also has reach far out into the community with its charitable contributions year after year.
UBIA Membership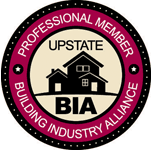 $295/yr
The sister organization of the Rochester Home Builders' Association
Same great local benefits and resources
An alliance of industry professionals in every aspect of the business
UBIA Membership Details
The Upstate Building Industry Alliance (UBIA) is the 'sister' organization to the RHBA. The UBIA was created to fill a need for smaller business (those with less than 10 employees) and those businesses that work in the industry but do less than 20% of their business in new construction. Now these businesses have a place alongside the RHBA members to fill their business needs including industry information, education and training opportunities and networking with peers to keep abreast of the ever developing construction spectrum.
It's easy to get started just fill out the form ->
To become a member:
Proof of Worker's Comp insurance
Proof of General Liability Insurance
DBA or Fed ID # filed
Three business references (please list at least one member reference when possible)
No unresolved judgments (per County Clerk's Office)
Agree to Construction Performance Guidelines
To remain a member:
Attend two education/training programs annually (Select from a list of at least 4 choices)
Attend one general membership meeting annually
Display Membership logo on website with link
Proof of Worker's Compensation and General Liability Insurance renewals annually
Construction Performance Guidelines
Please call 585-272-8222 for a copy of the guidelines.