Bedroom remodels are fun to do, and since we spend about a third of our time there, why not devote more time to this space? The people at Tuck Sleep Foundation have some advice for those of you into the trending – 'what's old is new again' theme when it comes to your bed. Thinking of dragging Aunt Matilda's frame from the attic?  Here are some things you need to know.
What You Need To Know Before Buying An Antique Bed Frame
You just walked into your favorite antique store and came face to face with the bed of your dreams. It is elegant, unique, and rich with history. But before you commit to walking out the door with it, there are a few issues to consider to make sure it will be a perfect addition to your home.
Check Mat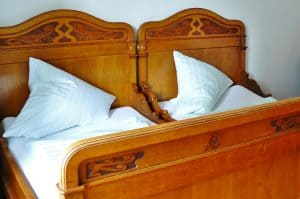 tress Size
Because not all antique bed frames accommodate today's standard size mattresses, it is so important that you measure the frame right away (before you fall too deeply in love with it). Some antique frames take a three-quarter (48 X 75 inches) size mattress that you may need to order from a specialty retailer online. In other cases, you may need a custom-made mattress.
Another way to address an odd size mattress is to purchase a bed conversion kit or to convert the bedframe yourself so that it can hold a standard mattress. However, keep in mind that altering the bed frame in this way may decrease its value as an antique piece of furniture.
Make Sure The Box Spring Matches Your Look
Many modern bed frames contain slats or bars directly built into the frame that the mattress can sit on top of. This system, however, was not commonly used with older frames. Therefore, you will probably need to factor in the cost of a box spring or foundation to add to your bed frame. To get the exquisite antique look you desire, choose a low-profile box spring so that the mattress does not sit higher than the frame itself.
Choose A Complimentary Vintage Quilt
Once you have chosen your bed frame and mattress, you will probably want to enhance your lovely traditional look with a gorgeous vintage quilt. When picking one out, remember that quilts were typically designed for narrower beds as opposed to the modern standard sizes we are now used to. If the mattress is especially large, like a King or California King size, it may cause the antique bed frame to appear smaller than it actually is even if you are able to convert it to a larger mattress size. To retain the antique look, you will either have to accept that mattresses were smaller in the past or you could have your favorite vintage quilt replicated as a larger piece by a custom designer.
Consider Your Entire Bedroom Design
Once you are investing in an antique frame or taking the time to DIY repairs to an antique frame, you are probably planning to design your whole bedroom around this exceptional centerpiece. While you're probably not going to find a perfectly matched set of furniture for a vintage piece, try looking for designs from the same era as you choose your nightstand, lamps, and dresser. Of course, just because you've got an antique bedframe doesn't mean that your room can't have some modern touches as well. For a look that combines modern aesthetics with vintage style, try winding twinkle lights around a wrought iron or bronze headboard.
Author Myra Campbell is a researcher for the sleep science and health organization Tuck.com. Her passion for art and design brought her into the field. She began by researching how to create a relaxing bedroom and learned that great design can help improve our health and well-being. Myra lives in southern California and shares her queen-sized bed with two rescue dogs.
Tuck Sleep Foundation is a community devoted to improving sleep hygiene, health and wellness through the creation and dissemination of comprehensive, unbiased, free web-based resources. Tuck has been featured on NPR, Lifehacker, Radiolab and is referenced by many colleges/universities and sleep organizations across the web.
Thinking of remodeling your bedroom? Consult with a professional.  You'll find them at FindTheHomePros.com